Sample Request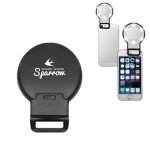 Item #41881-P
Smartphone Mirror LED Selfie Flashlight
A Mirror and LED light that will enhance any selfie. Simply add to any smartphone or tablet to provide supplemental or side lighting for creative photography and videography. Clip to the device and turn on the switch to begin taking pictures at night. Your brand logo will be front and center on the back of the mirror.
Get the best lighting for your selfie, no matter where you are!
Clips onto the top of your phone to light up your face.
Designed with 6 LED lights to illuminate around a mirror - check your teeth first!
Simply press the power button to turn lights on and off.
Comes with two inserted button batteries, can be replaced.
Remove film from mirror before use.