Sample Request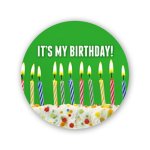 Item #41805-FC
3.5" Round Window or Bumper Sticker
Your custom round design and message will have a long-lasting impact on this handy window or bumper sticker. Transformed with your artwork for your customers, clients or prospects to put on their surface for easy access. An affordable marketing effort that will be around for years to come.
Round, removable, eco-friendly and long lasting window and/or bumper sticker.
Can be used inside or outside.
Contains no vinyl, or PVC, and are over-laminated for extra protection.