Sample Request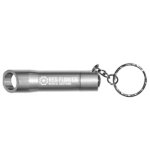 Item #41778-P
2-in-1 Flashlight and Bottle Opener Keychain
At your next event, hand out the trifecta of awesomeness! Who doesn't need a keychain that has a light and a bottle opener? It's the perfect option for your adult audience, whether they are female or male. Your branding fits perfectly on the aluminum barrel for long-lasting marketing opportunities. At this great price, you can get a bunch to make sure you have enough for everyone, because they'll all want one!
3-in-1 LED flashlight, bottle opener and keychain.
Push power button on end.
Keychain attached for quick access.
Batteries included.