Sample Request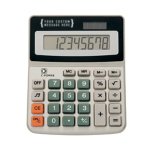 Item #41697-P24
Dual Power Calculator
You'll be able to calculate your marketing investment on this promotional calculator! A functional use item promotes your brand on a daily basis. Add one to each new employee welcome kit or have it ready for them on their desk.
8-digit display.
Ability to turn sound on or off.
Battery included.
Solar powered.
Imprint displayed on top left.