Custom Quote Request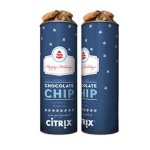 Item #43136-FCL
Snacktastic Cookie Can
Satisfy the munchies with gourmet, handmade, mini cookies. Each batch is fresh made, all natural, and deliciously memorable. Your brand will be memorable, too, with your logo prominently displayed on the customizable canister.
Mini cookie options include: chocolate chip, oatmeal raisin, key lime pie, and vanilla pecan.
All natural ingredients.
No preservatives or artificial flavors.
Canister is foil-lined to preserve freshness.