Custom Quote Request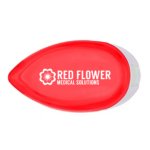 Item #41936-P24
Antibacterial Toothbrush Holder
Save their toothbrush from the dreaded germs of a hotel bathroom with this antibacterial holder with suction cup. Your imprint on the front of holder provides a message that you care every time they use it! Pick the color to show off your brand under the beautiful florescent lights.
FDA approved antibacterial agent prevents the spread of germs.
Plastic holder protects toothbrush from contacting other surfaces.
Suction-cup design attaches to mirror.
Ideal for traveling.
Features an off-white bottom.